Hannah Rotimi-Williams feeding her rabbits.
No doubt, women-owned businesses are gaining grounds in Nigeria as they seek to set the pace for the next generation, yet building a portfolio for themselves, making good money and adding value to society. Here is one of such, Miss Hannah Rotimi-Williams, a graduate of Psychology from the University of Ibadan, Nigeria and the Chief Executive Officer, Carmella Natural Farms. Her thrive in the agricultural sector is of an inspiration and impact to the younger generation. She has, in many ways, made farming and agriculture generally easy and interesting. She spoke about her organisation's mandate, which is to build a network of white meat and healthy vegetables in order to save lives. She further stated her challenges, how they were surmounted by gaining knowledge in her sector, her intriguing success stories, as well as her opinion on how more youths and women can be engaged in agriculture. Excerpts:

I am Hannah Rotimi-Williams, founder of Carmella Natural Farms. I am a graduate of Psychology from the University of Ibadan, Nigeria. I graduated in the year 2019 and I am an agric-entrepreneur. Asides from the fact that I love fashion, I am a farmer, I am into livestock farming and vegetable production, specifically rearing of rabbits for meat consumption and other purposes. I sell them as raw meat, barbecue, or as pets. What we do in Carmella Natural Farms is to build a network of white meat, rabbit meat across the country and healthy organic vegetables. We save lives because we want people to eat healthily by supplying white meat in substitute for red meat because white meat has a lot of benefits, providing healthy vegetables without the use of chemicals and making these products readily accessible for people in the community.
What spurred your interest in agriculture
Asides from the fact that I found myself in agriculture, I realised that agriculture can solve a lot of problems we are facing in Nigeria. For me, this is how to create opportunities for people, to save lives, and to add value. I decided to stick into it because I sensed that I will be meeting a major need and also with the help and words of my Pastor. I have not always been one to love agriculture. I didn't hate it either, but after finding the need and ways that I can add value to people, I decided to stay in it.
How did you start
Everything started in my church, The Standing Church. I ventured fully into it during my national service and I saw that a lot of things were banking on this agricultural sector, I saw agriculture again as the way to eradicate poverty, solve hunger in the country, provide good health and water. I launched out through the words of my pastor, Pastor Tara Akinkuade and through this, I have had the strength to grow in the sector with my passion growing too. But asides my rabbit business, I decided to venture into crop cultivation because I was getting so much manure from my rabbit wastes. I got so many cucumber seeds from a friend, who just got back from Kenya. Prior to this, I had no knowledge on the general management of crop cultivation, but searching through the Internet, I got some useful information that helped me. And again, I had people rise for me in the sector, I had friends and older people in the sector, who were willing to teach me and groom me. I started planting cucumber and it has been going well. I used the manure from my rabbit farm as fertilizer. I will still venture into growing different types of vegetables such as cabbages, pepper, carrots, green beans and tomatoes.
What challenges have you faced and how did you surmount them
Starting from my rabbitry, one major challenge I have faced is as a result of lack of knowledge in the field. I just started doing it, so to say, as per practice. I made a lot of mistakes due to this and as at then, my rabbit farm was under the sun and this was not really good for them. I remember starting with 11 rabbits and I ended up having seven. I also did not get good breeds of rabbits and they were not producing the best that I wanted; I mean the breeds that will gain good weight in 3-4 months. The mortality rate was really bad and by December 2021, my rabbit started giving birth to young ones. These young ones also started dyeing because adult rabbits were really unsettled and I didn't know what to do then. They would pee on them and do other sort of things. But like I said earlier, people rose up for me. I got taught and trained for no cost through the favour of God and since then, I have never lost any of my rabbits again. Asides the knowledge I was getting, I also pray and lay my hands on my rabbits, even sometimes, when some were sick and this has been working perfectly. So, I decided to fix a place of shelter for my rabbits and get better breeds and I can say that my rabbits are doing really well and I am so proud of them. This was same with the cucumber farm; knowledge was missing too and my harvest was very little. I did not stake them nor spray them. Many of them had fungi, but because I did not have any prior knowledge on that, I could not do anything as well. But at the second time of planting, having much knowledge about it, I got massive harvest that I even sold to road side stalls and I made a lot of resources. I can say that I have learnt on the job.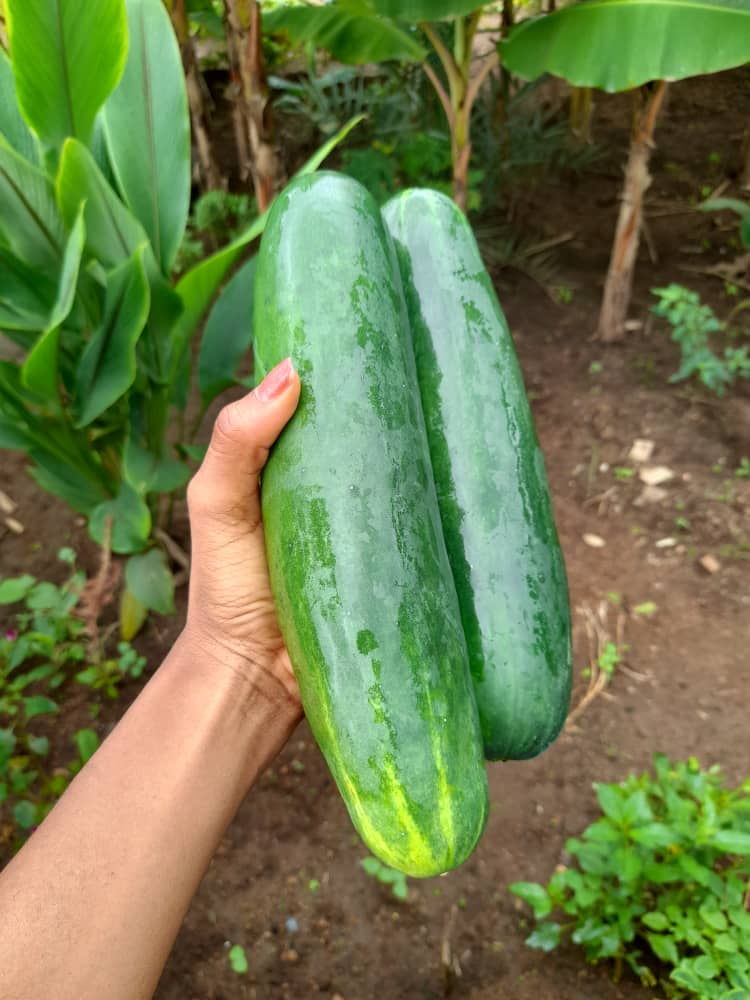 Freshly-harvested cucumbers at Carmella Natural Farms.
Give us your success stories
The first thing that still amazes me and I am really proud of is my rabbit farm. I started with seven, after death took four of them and now, I am proud to say that I have close to a hundred rabbits on my farm and this is a big deal. I launched Carmella Natural Farms earlier this year and in the space of 5 – 6 months, I got resources from a grant to scale up and expand my farm. With this, I was also able to register my farm. I started an project, which is the Carmella Young Farmers' Initiative and our mandate is to train young people to become relevant in the agricultural space at a very young age. I have started training young people from age five and above, inculcating basic gardening skills and nutrition education so that they can grow up having these skills and being educated on the importance of agriculture, yet making it fun for them to learn and also so that when they get older, it won't be hard to venture into agriculture. I am also proud of the fact that I have had to impact so many people within a short period of time, I have had people tell me that they are really interested in what I do because of how I do it and the progress I have been making. My success in agriculture at a very young age has made people to also want to grow in the agricultural space; now people consult me on what to do on their abandoned farmlands and this is really huge for me.
How do you think youths can be engaged in agriculture, especially women
For me, I understand that you cannot really impose things on people especially the older ones, so catching at a young age and making agriculture look attractive and in that way seeing to it that they grow in the field, it will not be so difficult for them to start. This is what brought about the young farmers' initiative I started earlier this year. I train children that are still in their primary education from class 3 – 5 and they have found this really interesting. So, I am advocating that if our youths, women will be more engaged in agriculture, then majority of it should be done on educating them at a very young age so that when they are older they would not see it as something boring and this education should revolve round the practical aspects too, after teaching them the theory aspect make them grow crops themselves, take care of farm animals, take them to the farm too. And so with this, when they are told to go into agriculture, majority would not think twice upon remembering the experience they have had from it.
What do you see about your company in the coming years
I see Carmella Natural Farms expanding so much that we will have a lot of chains of supply, a network of organic products, vegetables, livestock products all around Nigeria and Africa at large. I see my company solving the challenge of unemployment in the country by providing internship opportunities, mentorships, empowerment opportunities for youths and giving them avenues to do tangible things. I also see what I do as a way of contributing to the economy and saving lives.
Your parting word
Firstly, I want to thank everyone, who has been on this journey with me, starting with my pastors, my parents, siblings and every other person that has walked me through in this field. For the youths out there, I'll say stick to what you are doing as long as you know you are adding value to people's lives even if you are not seeing the results you want. There is so much that you will get from it beyond the result; the knowledge, the connection; just be there growing with the process, and also be one given to prayer; it takes prayer to thrive in a sector, get surrounded with people you know that will always encourage you positively and will not drag you down. And when you feel like quitting, always remember why you started what you were doing in the first place, the passion you had, the drive that pushed you and if you started on the basis of adding value to people, you will definitely have to change your mind about quitting.