By Omolola Pedro
In this exclusive interview with FarmingFarmersFarms, the Chief Executive Officer of Hairat Ajao & Co, Hairat Ajao speaks on her adventure into Aquaculture by looking at the prospects and challenges, and how fish farming can profitably be turned into a goldmine in the country. Excerpts:

Can we meet you, please?
My name is Hairat Ajao. I studied Fisheries Technology and currently running a postgraduate degree programme at the Lagos State University (LASU). I solely own Hairat Ajao & Co, an agribusiness enterprise largely into aquaculture enterprises. We have, and go into hatchery production, grow-out/market size production, fish processing section, farm construction services and management as well as fish farm consultancy services.
What would you say your motivation is?
My motivation is seeing all of the hard work we put in on the farm, yielding financial strength and human satisfaction. There are jobs we do freely to support other start-up farmers, seeing them grow and succeed, is a great motivation for me.
Is agriculture a passion or a diverted interest?
Agriculture is a passion for me, though I was influenced by my dad. It's been an interesting part of my life producing food. I'm happy to always know that what I'm producing is a major part of human existence (food).
Why Aquaculture? Is there a special fact about it?
I chose aquaculture because, it's fascinating, it's easier to produce or control animals on land. I was curious about how it's done in water (seemingly large volume of water). I read their reproduction rate (eggs) is in thousands. So I said, "let's see how this goes", if it is actually possible.
Can you give brief descriptions of activities at Hairat Ajao & Co?
At Hairat Ajao & Co, we specialise in hatchery production (Fingerlings and juveniles), market size production (1,000kg/tonne) per pond and we have three of that), fish processing production (Dried catfish production and we have three ponds for that), farm construction services and management. We give expert advice in the construction of fish farms and run the production of the farm, we are into fish farm consultancy services, we train farm staff on aquaculture best practices and profitability. We also run the business as a social business, where we train and consult for women and youths free-of-charge, to support them in running a successful aquaculture business. We aim to help people out of poverty and provide affordable protein source to low income earners.
How would you describe your success rate so far?
I will say every business will always aim higher. So, I will peg our success rate at 70% because, we are definitely aiming for more growth. We started off with 200kg production only for processing, as our financial strength increased, we increased that to 500kg. We added, three tonnes per harvest cycle in large concrete ponds, making sure we have at least, two cycles per pond a year and that is 12 tonnes – 15 tonnes a year. We added the hatchery; now we have our own juveniles and supply other farms standard juvenile. We can now afford to support start-up farmers by sharing experiences and knowledge for free. It's a tremendous growth, I must say.
How long have you been doing this?
It has been about 10 years now, having officially been registered in 2014.
Like it's expected of most businesses, what would you say your challenges have been?
The major challenge has been labour. Getting good staff, willing to work and grow with the business was challenging. The second one will be bad economic policies affecting purchasing power and fish feed prices. This has made it almost impossible for youths to venture into the business, considering the high start-up capital.
Can you mention some of these policies?
I really can't pin-point right now because I read and just let go of most of these policies, since it's not adding value to my business. But a recent one is the Naira Redesign Policy.
On the average, how much income can be realised from Aquaculture?
Per production sales, we make up to ₦250,000 – ₦350,000 profit.
What future do you see for Aquaculture?
I see more of cage culture on our natural water bodies used for commercial fish production. It will boost variety species production and it will become more affordable for all social classes.
What do you mean by cage culture?
Cage culture is a type of pond, mostly constructed with high quality and durable nets with small mesh size; it is set in a natural water body (e.g the Epe Lagoon); it is usually kept afloat with floaters specifically constructed for that purpose.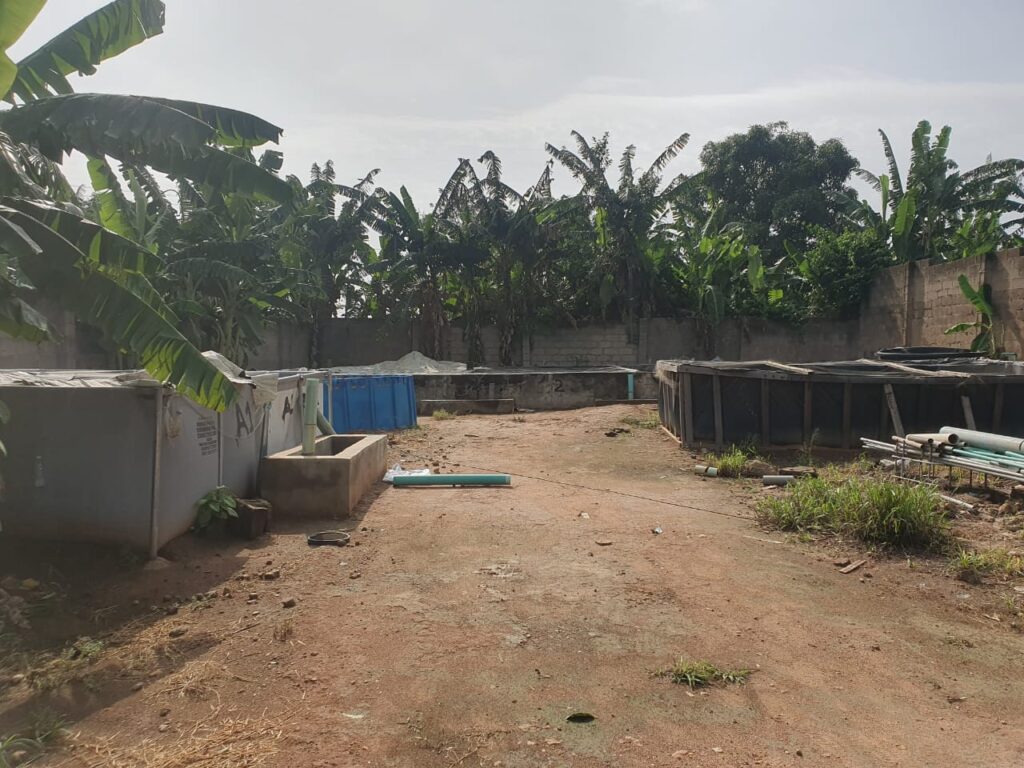 What do you think the government could do to boost agriculture, especially its interest among the youth group?
The government should create an enabling environment for start-up farmers. Working on price stability in fish feed production (fish feed takes about 70% of production cost now.) Adequate and sustainable training programme is important, focusing more on agribusiness modules and profitability. It is essential to, not just train the youths, but ensure that the training is showing the mathematics, steps and business discipline necessary for success. This is very true. We seem to have a lot of "unprofitable" trainings, these days. Yes, we do. I've attended some myself.
How much do you think is enough to start a fish farming business?
Start-up capital for a small enterprise should be about ₦1 million, medium enterprise will be about ₦3 million while large scale will take up to ₦10 million.
How much do you think fish farming contributes to the economy?
I don't have an actual figure, I can only project, but I'm sure it will run into billions of naira, because Nigeria is the second largest producer in Africa.
You mean, second the largest producer of fish in Africa?
Yes, Egypt is the first.
On a final note, what word of admonition would you give people, especially youths, who may be willing to go into this area of farming?
It is lucrative, but it needs hard work and dedication.