A final year Nigerian student from the Department of Chemistry, Federal University Dutse (FUD), Jigawa State, Zainab Bilyamin, has converted sachet water waste to hybrid fuel of kerosene and diesel, as her final year project, which is titled "Conversion of low-density polyethylene and mixed low-density polyethylene with polyethylene terephthalate into fuel".
According to FUD Newsletter, the final result shows that the hybrid fuel produced from the pure water waste products had similar properties as normal kerosene and diesel as it was used to light up a kerosene lamp and power a pumping machine successfully.

Ms. Bilyamin said she was motivated to embark on the research after reading about the possibility of converting polymeric waste into fuel because in Nigeria polymeric waste keep piling up the street without recycling, which poses environmental hazard whereas this waste can be converted to wealth.
Her research supervisor, Aminu Dauda disclosed that he quickly key into the project when Ms. Bilyamin brought the idea because combating the menace of polymeric waste pollution had become a global challenge, despite the fact that recycling rates are comparatively low, and that this had led polymeric waste pollution more than ever.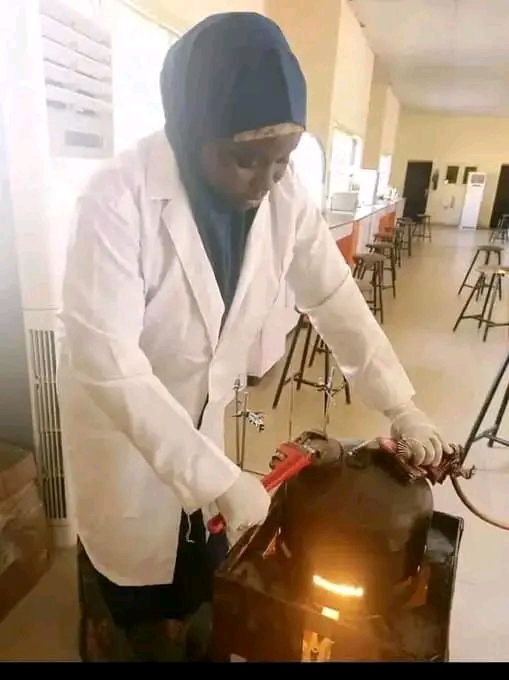 Dauda said they had to design and fabricate a machine (reactor) at the Kano Technology Incubation Centre. which was used for the pyrolysis, being the method used to convert the polymeric waste into fuel.
The student, who hails from Jigawa State, said she would pursue a career in academia as she want to carry the research further in her Masters and PhD programmes.
She stated further that the research gulped more than N100,000 (about $150) and that her supervisor is calling on the government to invest in this area of research as it would ease the blockage caused by polymeric waste and also serving as source of revenue to the government and to also reduce youth restiveness.